Link naar Ranger site met tips e.d.
Stickles™ Dry Glitter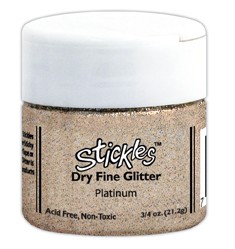 The same quality glitter in our Glitter Glue, loose in 3/4 oz. jars. Stickles Glitter is ideal to use with the new Ranger Sticky Embossing Powder, Inkssentials Wonder Tape or with other adhesives. Expand your glitter options into fabric, home decor and more. Available in our top 24 colors.
• 24 colors in 3/4 oz (21.2g) jars
• Use with Ranger Sticky Embossing Powder
• Use with Inkssentials Wonder Tape
• Acid free, non-toxic